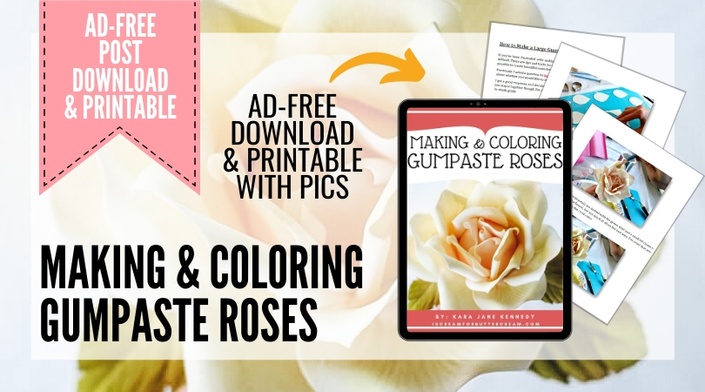 Making & Coloring Gumpaste Roses
A Detailed Step-by-Step Guide to Making Beautiful Gumpaste Roses
Please Note: This guide is only available as a DIGITAL DOWNLOAD. Once purchased, it's available for IMMEDIATE download.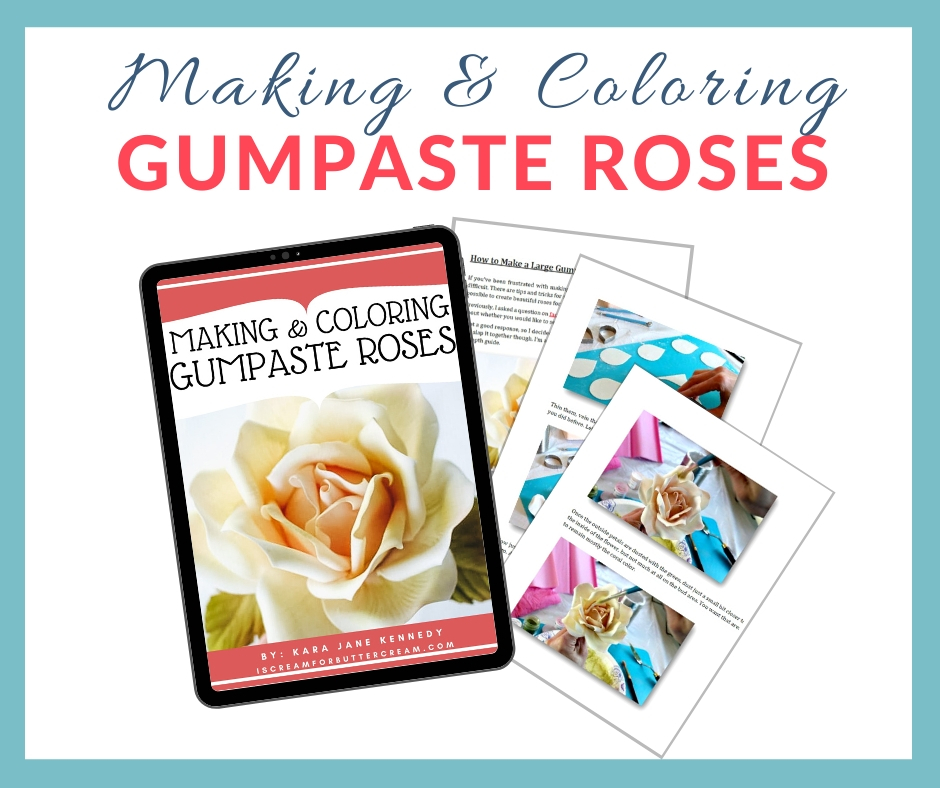 This 53 page detailed guide will show you how to create the perfect gumpaste rose, how to make the leaves and calyx and how to color them.
It's a step-by-step, easy to follow process that guides you through it with my best tips.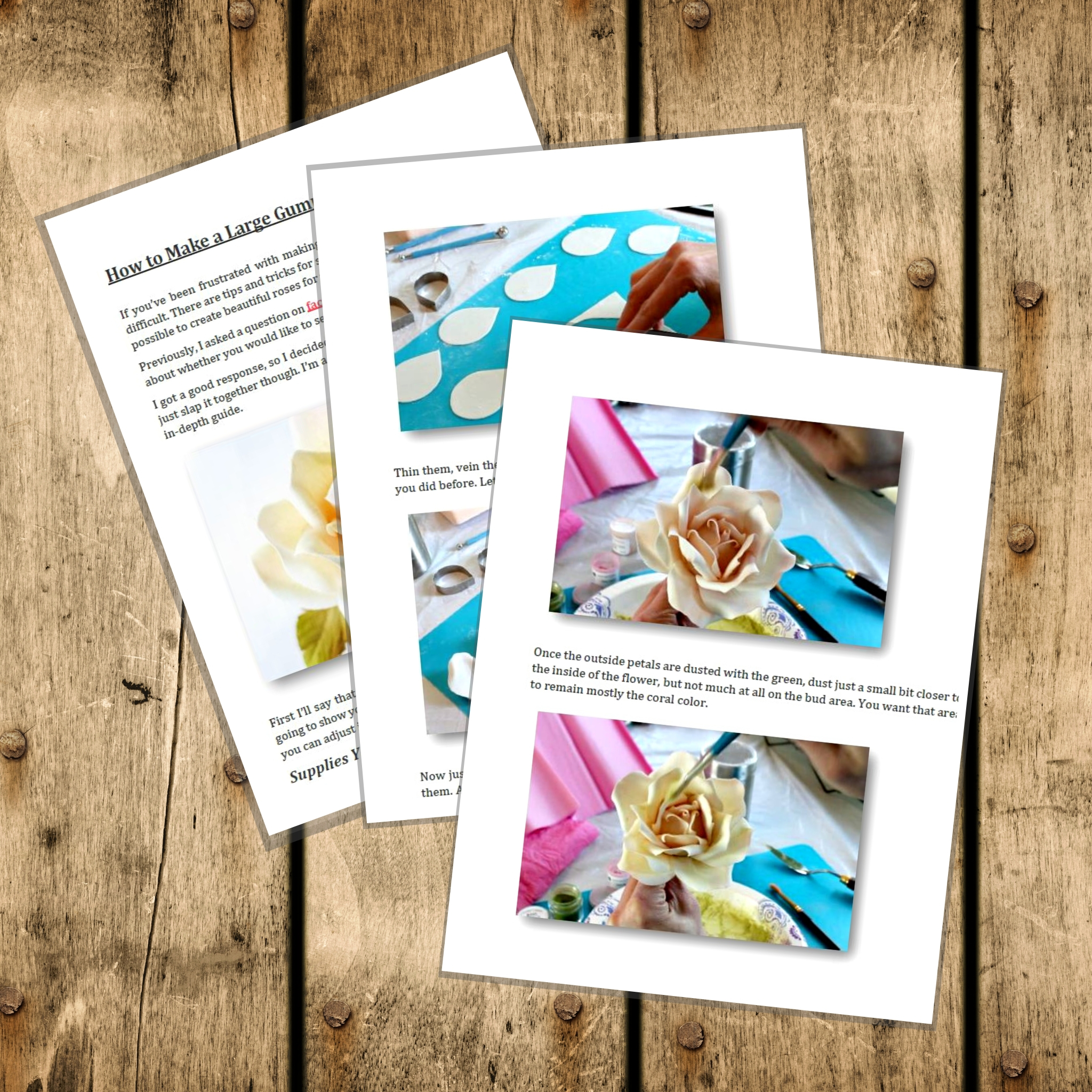 There are also video links after each section plus a one page
printable quick reference guide at the end of this e-book.
This e-book is based off of a three-part blog post series on how to make a large gumpaste rose. Below are the original posts:
• How to Make a Large Gumpaste Rose
• How to Add Color to a Large Gumpaste Rose
• How to Make and Color Gumpaste Rose Leaves
This guide is the ad-free, printable version of these posts. Yes, you can find everything you need to make gumpaste roses in the posts above, but they're long posts, so I wanted to provide another option for you. All you have to do is download the pdf version (including pictures) of the entire three-post series on making gumpaste roses, then save it to your computer or phone, or print it out for easy reference!
And hey, not having to scroll through the ads and find what you're looking for saves a lot of time and hassle, right?
Plus you'll get the one-page reference guide with it and links to the video tutorials...all in one handy downloadable pdf you can print out and have available to refer to anytime you want.
Your Instructor/Author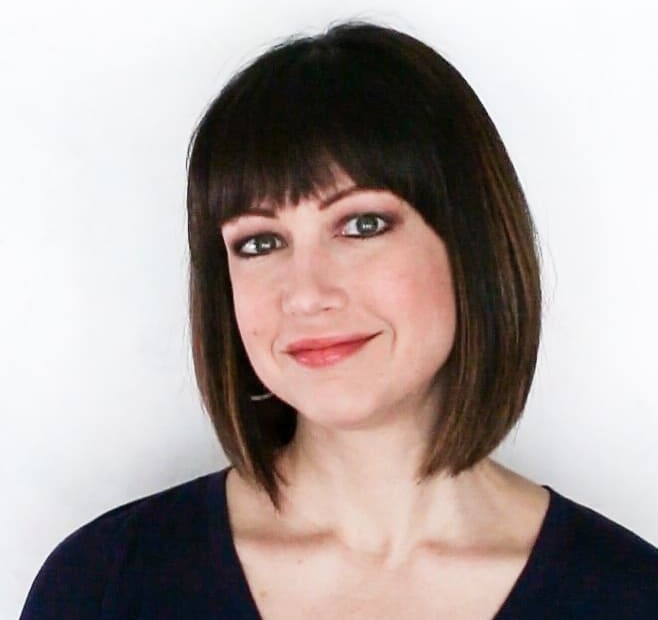 I'm Kara Jane, the blogger behind I Scream for Buttercream. I'm a true Texan with a sure 'nuff Texas accent and I love ALL things cake related.
I'm into realistic cake design that uses your own creativity to make unique cakes for your family, friends or for cake business clients.
I specialize in more of a realistic cake design...designs that aren't crazy, or too over the top, but enough of a challenge to keep me learning. When I was taking orders, customers were just not that interested in paying for those super-mega-cakes with over-complicated cake bases that needed to be built. While those cakes ARE super cool, I've found most people just want something less expensive, but still created and customized just for them.
I also feel like most cake decorators and those who want to start out in cake decorating, really would just like to make beautiful, memorable cakes for their friends, family or customers and not have to stay up for multiple days and nights to get it done. And yes, that CAN be done. You don't have to be a professional to make awesome cakes!
My objective is to teach cake decorating with a more realistic approach. I've figured out what actually works in the real world and what is actually do-able. I teach realistic cake decorating with techniques, systems and organizational tips that have worked for me.
I've been obsessed with cake since I was a kid and my love for it grows every day. Learn more about me.

Grab the guide and start making beautiful gumpaste roses today!