Learn how to plan out your cake projects and set up a decorating timeline that makes sense for your life.
Organize and keep your plans together in the Ultimate Cake Project Planner, a uniquely designed downloadable and printable planner specifically for cake decorating.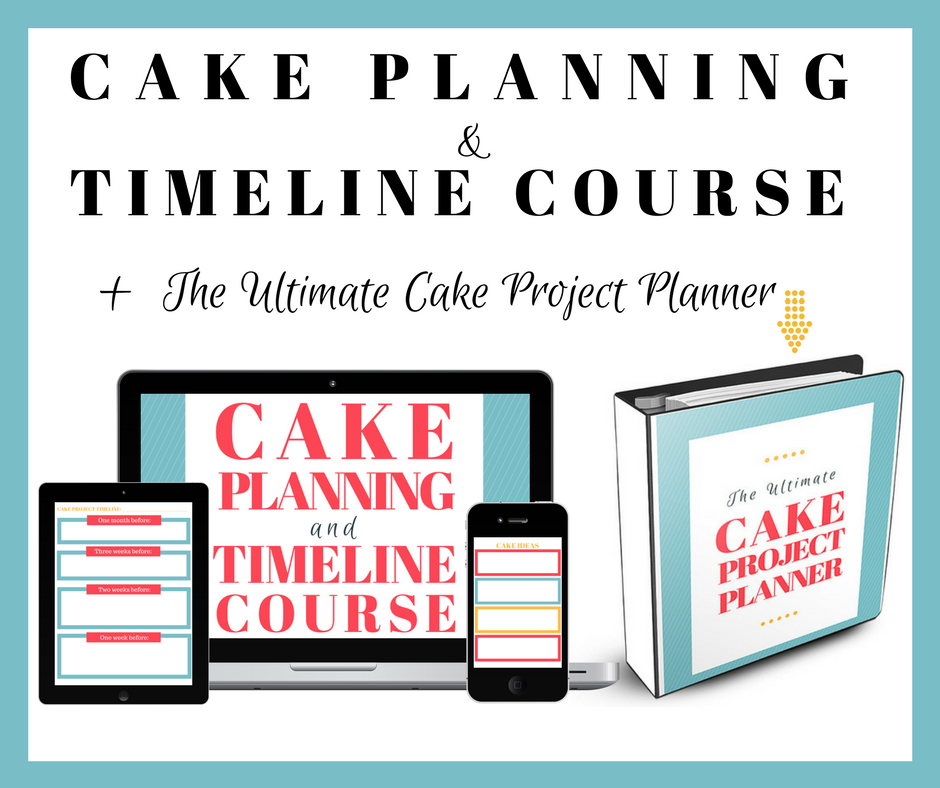 What is this course about?

This course goes through all of the stages of planning out your cake project from deciding on the design and sketching it out, to setting up a timeline of the steps to accomplish your project and when to do them.
If you're just starting out taking orders or if you've been taking orders for awhile, but find yourself feeling overwhelmed and disorganized, you're in the right spot.
This course and planner will also work for you if you just want to make custom cakes for your family and friends, aren't interested in a cake business, but want to keep all your projects organized and on track.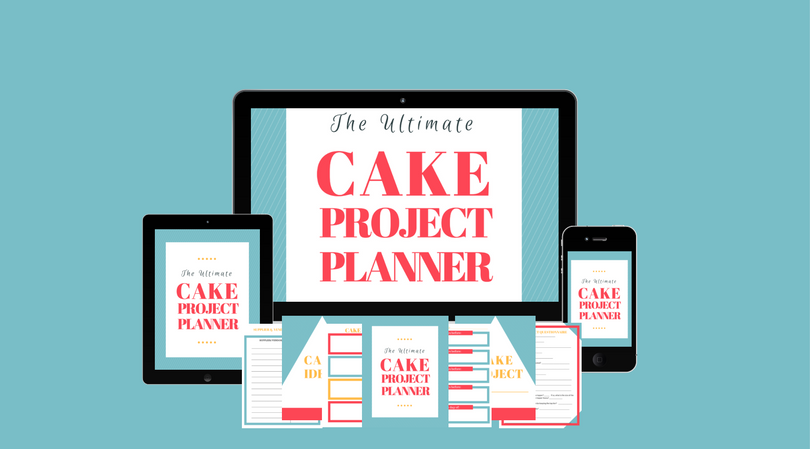 What is the Ultimate Cake Project Planner?

The Ultimate Cake Project Planner is a uniquely designed downloadable and printable planner specifically for cake decorating.
This planner's got everything you need to plan your cake project. Follow along with the course to see how to use it and how I organize my cake planning timelines.
Download the planner in PDF format and hand fill in, or download and edit on your computer using the Word or Google Doc versions.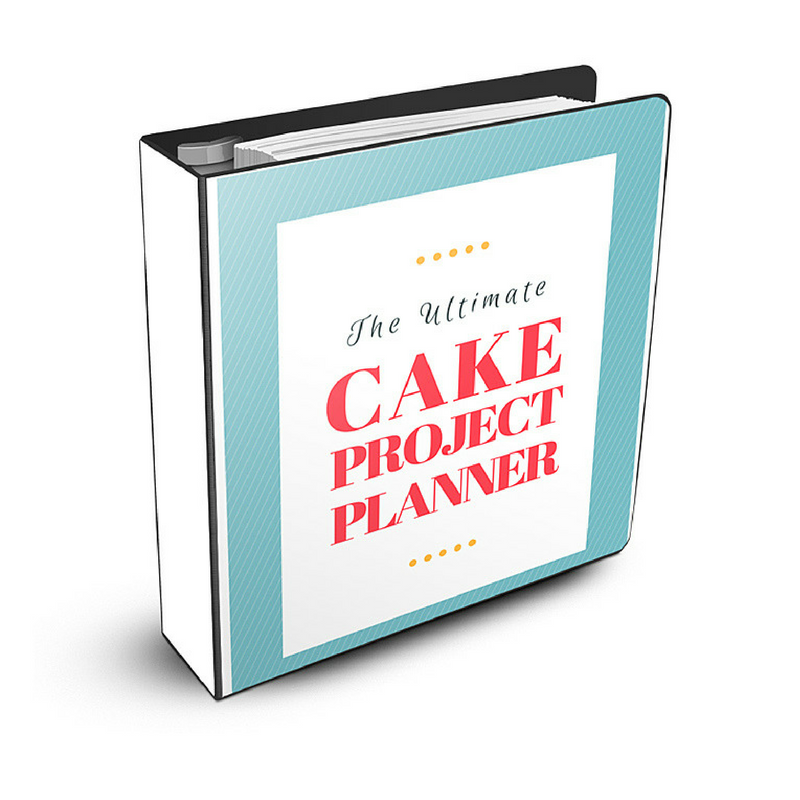 What's inside the planner?
The Ultimate Cake Project Planner includes checklists, timeline and workflow sheets, brainstorming pages, sketch areas, supply lists, fill-in-the-blank invoices and more.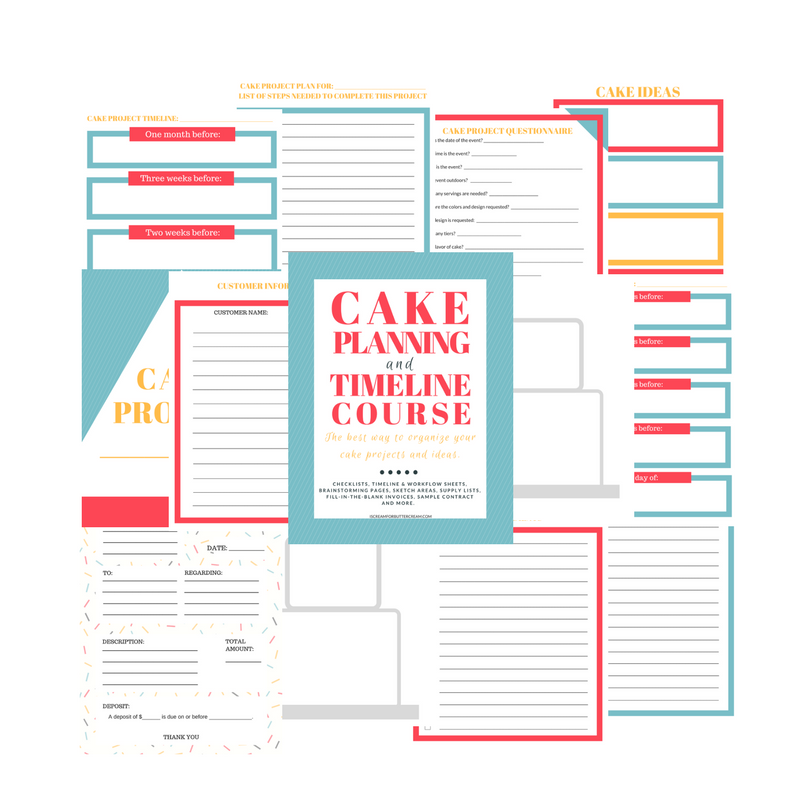 Why do I need a plan?
Are you feeling overwhelmed with your cake projects and all the steps needed to complete them?
Do you feel like there's just too much thinking involved and you don't know where to start?
Does the thought of creating an organized system seem too daunting?
Maybe you ask yourself, what day can I ice the cake? What about adding fondant? How many days before can I start working on the project?
When decorating cakes, having things come up at the last minute that you forgot to account for, is very stressful.
Planning and organizing out all your cake project steps is crucial in alleviating a lot of stress and hassle.
No more freaking out at the last minute, because you forgot to do some part of the project or forgot to order a certain supply.
...and the best part, no more endless lists of tasks and ingredients running through your head all the time.
You've got it all organized...Everything will be at-a-glance.
How does the course work?
This course is laid out into two modules with lessons included in each one.
Using the cake project planner as the guide, we'll be going through the stages of planning out a large cake project.
(If you feel you do not need the video instruction on how to use the planner and how to plan your cake projects, you may want to check out the planner-only page where the planner is available without the corresponding course. You can find that by clicking here: The Ultimate Cake Project Planner (without course).)
Here are the modules in this course:
In the first module, we'll go through all the steps to planning out your cake project from designing it to listing out your timeline, so you've got your whole plan laid out in front of you. I'm even going to go through a real life planning example of a cake I made, so you can see all the steps in action.
In the second module, I'll show you how I organize my planner, plus how to use the pdf printable version. I'll also show you how you can edit the planner in the Word and Google Doc versions.
Check out the entire list of modules and lessons included in this course: